Ages 12 Months to 36 Months
Toddler Program
Our Toddler Community has been created for children ages 12 months to 36 months.  In this program, toddlers are encouraged to explore their environment, using their bodies and senses, to develop problem-solving skills necessary for a meaningful foundation of understanding and education.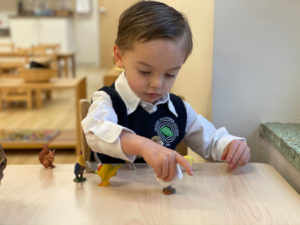 This critical time in a child's development is when the child develops true personality and intellect – they learn quickly and easily, all while demonstrating independence.  Our curriculum has been designed so that each child has the freedom to learn as much as they can, as quickly as they can!  Each class is lead by a "Director" or "Directress," the Montessori educational Guide who enables children to explore their environment, explaining and demonstrating findings as that child develops.  We believe this responsive, individualized attention helps children learn at their own pace while developing a deep passion for education – a key indicator for long-term educational success. Our Toddler Communities are home to 10 to 14 toddlers and are instructed by teams of 4 early childhood professionals.  These teams feature a Directress and 3 Assistants.
Additionally, our students work to develop skills in self-care and a sense of community responsibility!  Children are given hands-on opportunities to socialize and care for their environment, including family-style meals, tending their class gardens, and a guided understanding of cleaning up after themselves during their work cycle.  Parents do retain the option to provide a healthy (peanut-free) lunch for their child, and Midtown Montessori Academy will provide a daily balanced snack.
The Montessori Method is founded on the understanding that children explore, discover, and learn through active play.  As such, the works and tools (meaningful play items) found in our Toddler Community support development of:
Sensory and Perception
Self-Help
Language
Physical and Motor Skills
Social and Emotional Growth
While Midtown Montessori Academy works with families to facilitate potty training, we are a green initiative facility!  As such, we offer a cloth training underwear service for our infants and toddlers while in attendance.  Please note that all children in the toddler classroom wear underwear to help them recognize their bodily functions – following the Montessori emphasis on independence.  Therefore, parents who choose to forgo the diaper service will be required to supply ample clean underwear and spare clothing for their child.