Ages 8 Weeks to 18 Months
The Infant Nido
The Nido (Italian for "nest") is our Montessori Infant Program.  This class provides a safe and nurturing environment for infants, ages 8 weeks to 18 months, to develop independence and foster curiosity as they familiarize themselves with their new world.  Through our infant curriculum, your little one will have the opportunity to explore the world through practical work tools and refine motor skills in a calm, non-distracted environment.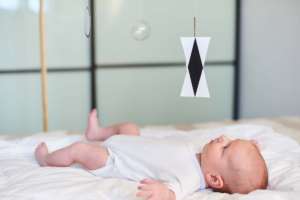 Our classrooms have been purposefully and beautifully designed to foster natural development.  Beginning with our "freedom to explore" philosophy, infants are never confined in walkers, jumpers, swings, or cribs!  This environment supports the child's natural inclination for movement, discovery, and sensorial exploration.  Following this philosophy, floor beds are provided to each of our infants, as opposed to traditional cribs, allowing for freedom of movement from the moment they wake up and encouraging independence as they explore putting themselves to bed when they feel tired.  As you continue through materials found in the Nido, parents will quickly be able to see the simplicity behind each tool found in the classroom, understanding how each serves a vital role in an infants development and helps to develop fine motor skills.  Additionally, our classrooms are free from distractions and serve to further promote the child's deep concentration and understanding of the world, during the critical time of sensorial learning.
In addition to our curriculum, our loving staff are committed to nurturing your child through their first few months of life, while providing a safe and calm environment!  We pride ourselves on our commitment to your child's development, both emotionally and physically.  Our Nido communities have 8 students and are nurtured by our Montessori Nido teams consisting of a Lead Guide and two Assistants.